New Delhi has to safeguard the interests of its people and not let the Riyadh-Islamabad axis block its resurgent partnership with Tehran.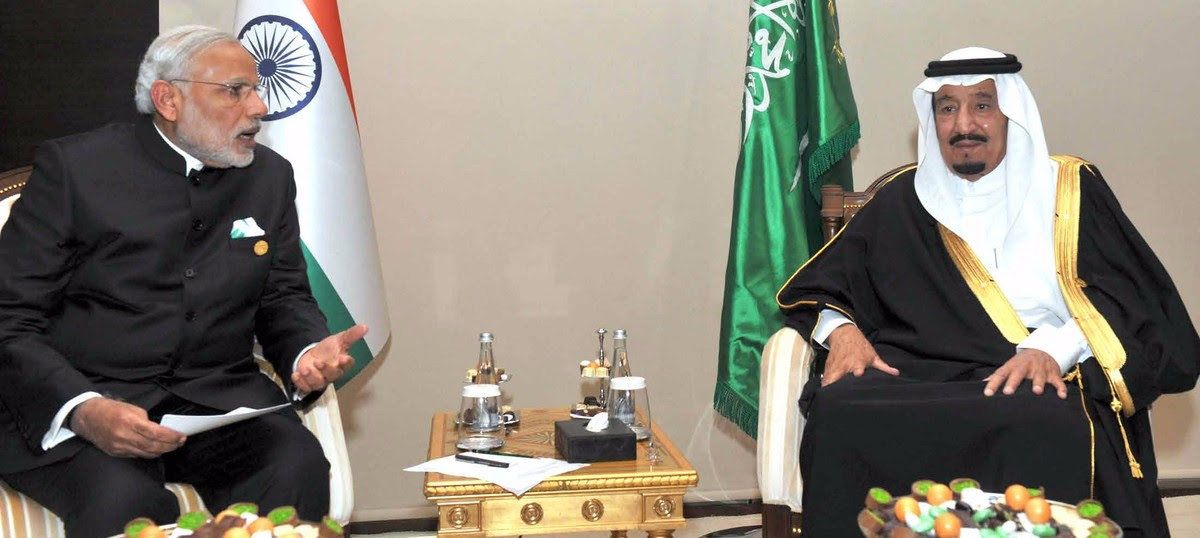 Image credit: PIB
The Indian diplomacy toward Saudi Arabia through the past decade has remained a mystery wrapped in an enigma. Was the ecstasy of the mad pursuit really warranted? India is like the English poet John Keats' famous Bold Lover in the
Ode to a Grecian Urn
, who never could kiss, though winning near the goal, and yet remained unwearied, constantly piping new songs, panting with a burning forehead.
Pursuit without fulfilment – that has been the story of India's barren diplomacy toward Saudi Arabia. The late Saudi King Abdullah was our honoured guest at the Republic Day celebrations in 2006. It was a rare occasion when the then Prime Minister Manmohan Singh went to the airport to receive a visiting dignitary – and to see him off. He broke protocol only on another occasion during his 10 years in power – when George W Bush visited Delhi.
Abdullah's visit was the setting for the Delhi Declaration, which was expected to impart "a fresh momentum" to the Saudi-Indian relationship. But nothing happened. Nonetheless, Manmohan Singh paid a return visit to Saudi Arabia in 2010, which raised the ties to "Strategic Partnership". The Riyadh Declaration signed during Manmohan Singh's visit apparently "captured the spirit of enhanced cooperation in political, economic, security and defence realms".
A pipe dream
Former Defence Minister AK Antony, who was notoriously averse to foreign travel, was persuaded to undertake a visit to Riyadh in 2012 and we were given to understand that Saudi Arabia was raring to go to invest hundreds of millions of dollars in Indian defence industry and an unprecedented avenue of military cooperation was about to open up.
These dizzying expectations lie unfulfilled. Not a single Saudi Riyal has found its way to our defence industry. The military cooperation remains a pipe dream.
The Riyadh Declaration and Delhi Declaration envisaged a spurt in Saudi investment in India. Well, the entire Saudi investment in India during the 15-year period from 2000 to 2015 works out to a miserable $58.96 million. (India is estimated to have received a total of $34 billion as FDI in 2014 alone as per the United Nations Conference on Trade and Development is that )
The future prospects for Saudi investment are bleaker than ever, given that country's acute budget deficit ($100 billion) due to the steep fall in oil prices, which in turn compelled it recently to cut subsidies and float public bonds to raise money for meeting expenditure.
As regards trade, the statistical jugglery hoists Saudi Arabia as our "fourth trading partner". But it obfuscates the fact that our oil imports account for much of it. Remove the oil and the trade volume shrinks dramatically. True, Saudi Arabia overtook Iran as India's number one source for oil imports, but then, that was because the Manmohan Singh government caved in to the US pressure to curb oil imports from Iran to a level that America prescribed.
Following the lifting of the sanctions, Iran's oil exports to India are already surging. In any case, Saudis are not showing any goodwill by selling oil to India at the market price. With oil glut, India can comfortably choose where to source its imports from. According to Reuters, for February delivery, Iran provided a $6.55 discount on heavy crude for its European customers as against the Saudi discount of $4.85 per barrel. Again, Iran's flagship is 'light' crude (crude oil that is less viscous and flows more easily so that less processing is required at the refinery to produce a more valuable mix of finished products).
The Indian analysts often flag Saudi Arabia's deportation of "Abu Jundal" in June 2012 as a landmark event in security cooperation. Unfortunately, much of what really happened remains "classified information". But in the ultimate analysis, it was a "stand-alone" case where immense American pressure on Saudi Arabia worked.
Importantly, such forceful American intervention was forthcoming because Washington too had a score to settle with Islamabad against the backdrop of the detention of ex-CIA operative Raymond Davis by Pakistani agencies (January 2011) and the raid on Osama bin Laden's hideout in Abbottabad (May 2011), which saw United States-Pakistan ties plummet to a very low level. Nonetheless, it still took several months for the Americans to persuade the Saudis to let Abu Jundal go.
Balancing act
Make no mistake, India can never have robust security cooperation with Saudi Arabia, given the latter's consistent record of being the patron saint of extremist Islamist groups the world over – be it Afghanistan, Chechnya, Iraq, Yemen or Syria. India has a large Muslim population and partnership with Saudi Arabia will amount to letting the fox to guard the chicken coop.
India's endeavour should be to keep the Saudis at arm's length and prevent them from radicalising the Muslim population in our country, which of course requires eternal vigilance about the Saudi tentacles that are running in the nooks and corners of our country.
In sum, the
raison d'etre
of Modi's forthcoming visit to Saudi Arabia narrows down to the welfare of the Indian community, numbering 2.96 million, living in that country. To be sure, ensuring their welfare is a matter of abiding interest – and indeed an obligation – for the government. It is a pity that Saudis do not take kindly to a Madison Square Garden like event on their soil for Modi to address the Indian community, which he would have relished.
India should have no illusions that Saudi Arabia has a time-tested strategic alliance with Pakistan. If the influential Saudi lobby in India tries to give a larger-than-life dimension to the relationship between Delhi and Riyadh, it is because the main thrust of the Saudi diplomacy toward India is to discourage Delhi from moving forward in relations with Tehran.
But the Saudi lobby should not be allowed to hinder our ability to understand, and navigate, a rapidly changing West Asia, or hustle us into buying into the mythology that Saudi-Pakistan relations are unravelling and India must therefore go for the kill. The heart of the matter is that Saudi-Pakistani alliance is made in heaven.
It was only very recently that King Salman offered a hugely remunerative post-retirement job to the Pakistani army chief Gen Raheel Sharif – as the first commander-in-chief of the Saudi-funded Islamic Military Alliance (NATO of the Muslim world.) And Sharif has promptly showed his gratefulness to the King by threatening Iran with dire consequences if it allowed an Indian presence in Chabahar.
An Indian spy was brought in from the cold for that purpose. Clearly, the spectre that is haunting Pakistan and Saudi Arabia is the resurgence of the strategic partnership between India and Iran. Indeed, if the pivotal Chabahar project gets under way, it opens the door to wide-ranging multi-billion dollar energy projects.
The last week's spy thriller from Balochistan, just when our petroleum minister was to visit Tehran to close the deal on energy projects, should be an eye-opener for Delhi. The Saudi-Pakistani congruence in blocking Indian-Iranian partnership is with an eye on the overall strategic balance in the region. [Meanwhile, Iran has countered Pakistani claims: "
Some elements spreading 'undignified' rumours about Indian spy to undermine Pak-Iran relations: Tehran
"]
The challenge for Indian diplomacy, therefore, lies in managing the ties with Saudi Arabia by keeping them on an even keel, while advancing the mutually beneficial economic cooperation with Iran. If China's diplomacy can achieve it, so can we.
But then, we should have a sense of proportion. Saudi Arabia is quintessentially a petrodollar state with dwindling oil reserves and vastly declining income. Iran, on the other hand, is a potential regional power on the surge with nearly four times the Saudi population, a diverse economy with a broad industrial and technological base and agriculture plus having the second biggest gas reserves in the world, which are yet to be tapped for export. We should be clear about our priorities.